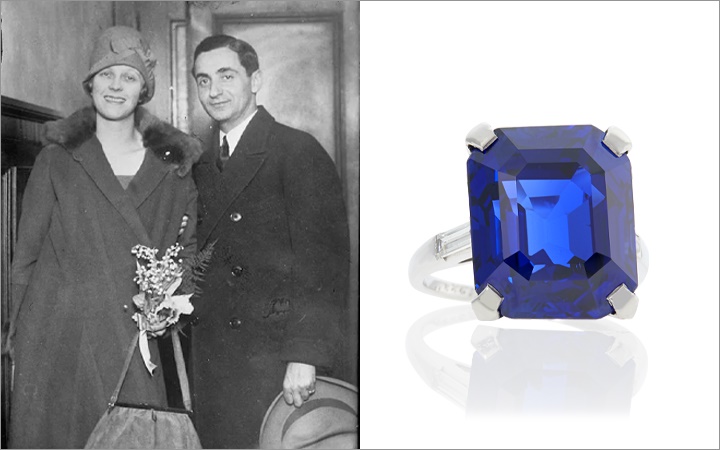 "Irving Berlin has no place in American music. He is American music."
              – Jerome Kern

Irving Berlin was born Israel Beilin on May 11, 1888, one of eight children of Moses and Leah Lipkin Beilin. In 1893, the family left Tolochin, Byelorussia to escape religious persecution and immigrated to New York City. When his father died in 1901, 13-year-old Berlin took on a variety of odd jobs to help his family. His father had been a cantor at his synagogue in Russia, and Berlin inherited his gift of song. He worked on the streets selling newspapers and singing for change, later finding work as a singing waiter at a cafe in Chinatown where he sang parodies of popular songs. In 1907, he wrote his first published song, Marie from Sunny Italy. The sheet music incorrectly listed his name as "I. Berlin," a name he would keep for the rest of his life.
In 1909, Berlin became a lyricist for one of the largest publishers of popular sheet music, the Ted Snyder Company, and in 1911 came his big break—he wrote Alexander's Ragtime Band, which became a major hit. It was the fastest selling song of its day, with a million copies of sheet music sold in four months, and millions more in the next year. In 1912, his name was added to the firm, now called Waterson, Berlin & Snyder. A true American patriot, Berlin became a United States citizen in 1916, and served in the Army during World War I. Later, during World War II, he wrote the musical, This is the Army, as a fundraiser for the Army, raising over ten million dollars.
Founding Irving Berlin Music, Inc. in 1917 gave him full artistic control and ownership of his copyrights. His rise as a songwriter mirrored the development of Broadway's theatre district—he even invested in the Music Box Theatre as a venue for his productions. A prolific songwriter, he wrote an estimated 1,500 songs during his career and scores for twenty original Broadway productions and fifteen Hollywood films. His lasting contributions to the classic American songbook include Blue Skies, Easter Parade, Puttin' on the Ritz, Cheek to Cheek, Anything You Can Do, I've Got My Love to Keep Me Warm, and There's No Business Like Show Business.
At a dinner party in 1924, Berlin met Ellin Mackay. She was the daughter of Clarence Mackay, the Irish-Catholic president of the American Post and Telegraph Company and an heir to the vast Comstock Lode fortune. A society debutante with an independent mind, Ellin was a short-story writer and novelist who during her life would contribute articles to such popular magazines as The Saturday Evening Post, The Ladies' Home Journal and The New Yorker. The film rights for her first novel, Land I have Chosen (1944) sold for a record $150,000. Three novels followed: Lace Curtain (1948), Silver Platter (1957) and The Best of Families (1970).
The whirlwind romance between the society heiress and the Jewish immigrant songwriter fifteen years her senior caused a media frenzy and captured the public's imagination. Ellin's father, however, strongly objected to the match, even sending her to Europe in the hopes of keeping them apart. Upon Ellin's return, the couple quietly married at New York's Municipal Court on January 4, 1926. As a wedding gift for his new bride, Berlin composed the song, Always, with its tender lyrics, "Not for just an hour, not for just a day, not for just a year, but always…" Married for 62 years, theirs was an enduring love story, and their lasting contributions to American culture continue to enrich our lives today.
Ellin's father was so incensed by the marriage that he barred her from the family home and threatened to disown her. This estrangement would last for five years. Meanwhile, the new couple began a family of their own and celebrated the births of four children—Irving, Jr., Mary Ellin Barrett, Elizabeth Irving Peters, and Linda Louise Emmet. Sadly, Irving, Jr. died in infancy, the tragedy leading to the reconciliation between Ellin and her father.
With the 1942 release of the film Holiday Inn featuring Fred Astaire and Bing Crosby and music and lyrics by Irving Berlin came the debut of the song, White Christmas. The song would become the best-selling single in history with estimated sales of over fifty million copies worldwide, and Berlin won the Academy Award for Best Original Song.
Berlin also wrote one of our nation's most celebrated patriotic songs, God Bless America. In 1940, the Berlins established The God Bless America Fund that directs proceeds from Berlin's patriotic songs to the Boy Scouts and Girl Scouts, which continues to this day. Berlin was recognized with numerous honors for his contributions to our country, among them the U.S. Army Medal of Merit from President Truman in 1943, the Congressional Gold Medal from President Eisenhower in 1954, and the Presidential Medal of Freedom from President Gerald R. Ford in 1977. The Irving Berlin Collection in the Library of Congress is a comprehensive archive of material chronicling his many contributions to American popular music and theatre.
In 1962, Berlin retired, and he and Ellin stepped back from public life, spending much of their time in the Catskill Mountains. Ellin Berlin died on July 29, 1988, and Irving Berlin died the following year on September 22, 1989 at the age of 101. During their 62-year marriage, Irving Berlin gave Ellin gifts of exquisite jewels as expressions of their lasting love for one another. Doyle is honored to auction one of these treasured pieces in the December 14 sale—the superb Ellin and Irving Berlin Sapphire and Diamond Ring (lot 269).
The sale also features an elegant diamond pendant with provenance of Ellin Berlin's grandmother, Marie Louise Mackay, whose husband made a fortune n the Comstock Lode (lot 268). The discovery in 1859 of the Comstock Lode, a vast deposit of silver ore in Nevada, was one of the most significant mining discoveries in American history. It drew people from across America, among them Irish-born John W. Mackay (1831-1902). In 1865 he bought into a mine that hit big and made him an overnight millionaire. He formed a partnership with three other Irishmen, later known as the Bonanza Kings, and in 1873 they made the largest ore discovery ever found in North America, earning John Mackay an estimated $50 billion in today's money. The Mackays established themselves in Paris in an elegant mansion near the Arc de Triomphe, now the home of the Belgian Embassy, where his wife, Marie Louise, became a society hostess famed for her lavish dinners and balls.

Important Jewelry
Auction Thursday, December 14, 2023 at Noon
Exhibition December 9 - 11