NEW YORK, NY -- John Atkinson Grimshaw (1836 – 1893) was one of the most surprising and unusual poetic spirits of Victorian painting. Born into a family of modest background in the industrial city of Leeds, England, in 1836, he appears to have been almost entirely self-taught. He began to paint in his late teens, while working as a clerk for the Great Northern Railway, and despite this seemingly unpromising start, by 1861 he felt confident enough of his skill to quit his job to devote himself to painting full-time. How he supported himself and his family at this moment of his career is something of mystery, but he clearly developed a clientele early on, for whom he painted portraits, landscapes, and a variety of other subjects. He also found the time—and the means—to cultivate an interest in the newly fashionable art of photography and to travel to various cities in Britain, including Glasgow, Liverpool, and London, to paint urban scenes. By 1870 he had become successful enough to rent Knostrop Old Hall, a massive seventeenth-century house on the outskirts of Leeds, as his home. By 1874 he was exhibiting at the Royal Academy.
In the 1870s Grimshaw began to specialize in urban views by moonlight, twilight, or the light of the late afternoon sun. These pictures were almost monochromatic, cast in tonalities of blue, green, purple, or amber, depending on the time of day. They included views of dockyards, river embankments, city streets, and suburban lanes, all lit by an almost uncanny light. These paintings are firmly realistic in technique, but the feeling conveyed by them is enthrallingly Romantic. They were a striking innovation at the time, and they remain the artist's most prized works today. Some writers on Grimshaw's art have seen connections between the inherent "realism" of photography—a medium that fascinated him—and his straightforward approach to painterly description; yet the atmosphere of his pictures is far from objective. One sees moonlight shimmering evocatively on wet pavements, autumnal trees set dramatically against late-afternoon or evening skies, or the distant glow of windows in the darkness. In the twilight colors and evanescent lights of these nocturnal and near-nocturnal views, one feels drawn into a world of dreamlike, subjective experience. Later in life Grimshaw became a close friend of James Abbot McNeill Whistler, who not only admired these paintings, but went so far as to say that "I thought I had invented the Nocturne, until I saw Grimmy's moonlights"—a remarkable tribute indeed from the notoriously self-regarding Whistler.
On November 15, 2023, Doyle will offer a classic example of a scene by Grimshaw in late afternoon light, The Waning Glory of the Year, thought to have been painted in 1882 (lot 1004). Here we see a solitary young woman standing amid fallen leaves in the light of the setting sun across the road from a very large house. The season has not yet turned cold, for the woman is lightly dressed and her bonnet is designed to offer shade rather than warmth. The mansion across from her is silent, and dark within. The woman, who is facing away from it, does not appear to be headed there. Is she waiting for someone, or just stopping for a moment on an afternoon walk? Does she have some connection to the house, or has she simply come upon it by happenstance? The unanswered questions that arise in the viewer's mind intensify the painting's atmosphere of mystery. One is left with a sensation that something significant is happening here, but it is not at all clear what it is.
Perhaps it is this sensation of unanswered questions in the air that creates one of the most affecting qualities of Grimshaw's monochromatic paintings: a feeling of melancholy, of nostalgia, a wistful yearning for something now lost. The moments that he so brilliantly caught in these works are transient, each about to slip away like so many of the most beautiful and profound moments of life.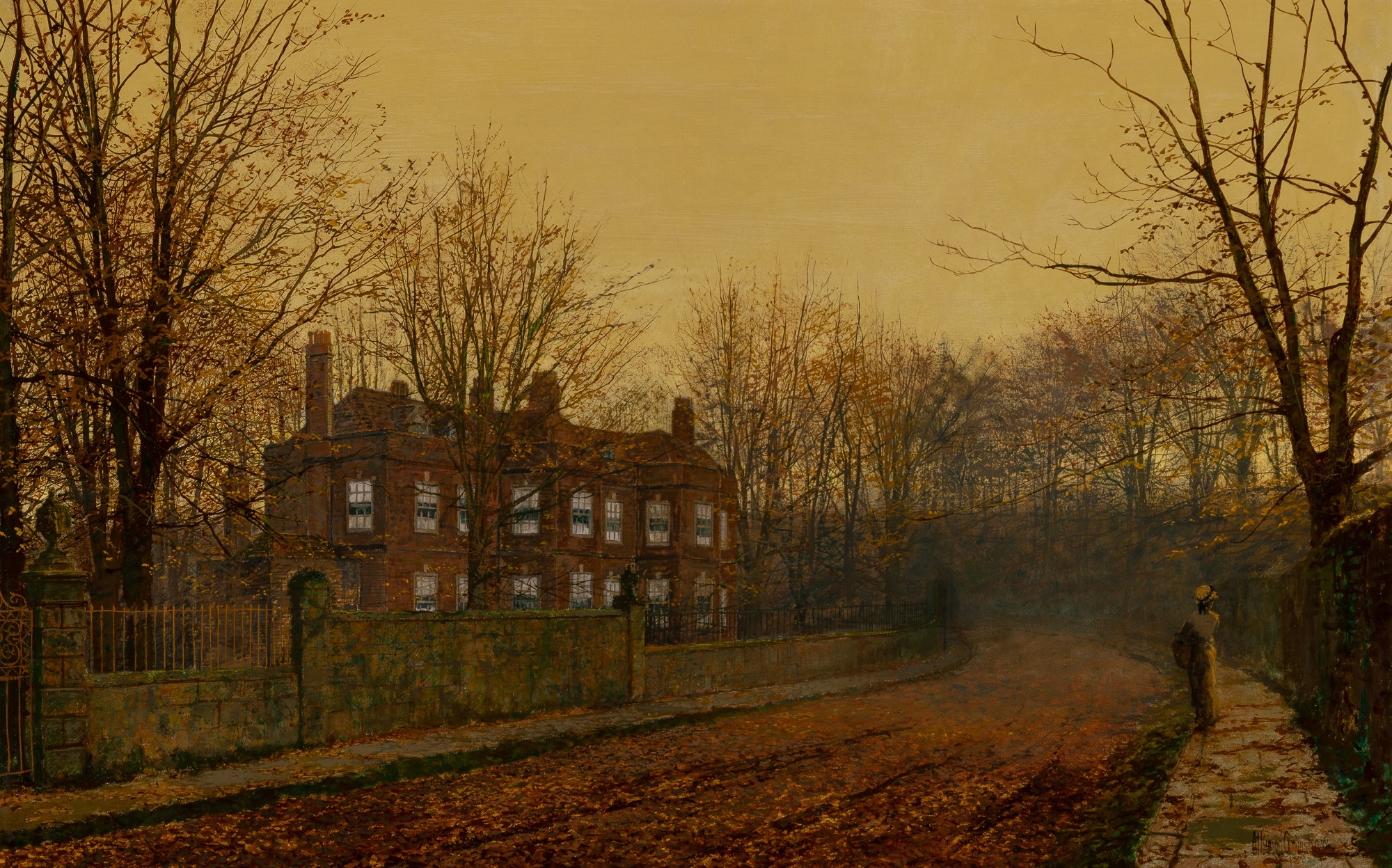 Impressionist & Modern Art
Auction Wednesday, November 15, 2023 at 11am
Exhibition November 11 - 13
A highlight of the November 15 auction of Impressionist & Modern Art is John Atkinson Grimshaw's The Waning Glory of the Year, 1882.