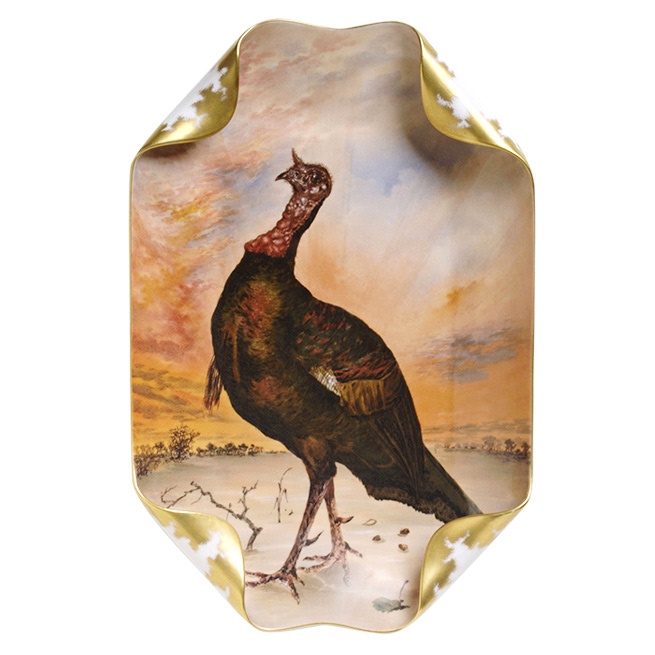 WASHINGTON, DC -- Without a doubt, the most spectacular table ever laid out at the White House was in November 1880 by First Lady Lucy Webb Hayes, the wife of President Rutherford B. Hayes, for a dinner honoring President Elect James A. Garfield and Mrs. Garfield. Mrs. Hayes used a specially commissioned state dinner service that had been delivered earlier that year. This set of White House china was unlike anything ever seen by Americans up until that time.
The extensive service was for nine courses with a total of 562 pieces and over 130 different designs. Mrs. Hayes had conceived the idea of incorporating some of the native American flowers on a dessert service. She consulted with the artist Theodore Russell Davis about this concept, and soon the scope of the project escalated to an entire dinner service depicting the flora and fauna of America.
This unique service featured dinner plates painted with game animals, such as deer, buffalo, geese, pheasant and quail. Fish plates depicted trout, lobster and frogs. Soup bowls were decorated with tomatoes, corn and other indigenous American produce. Ice cream plates were molded and painted with a snowshoe. The individual serving pieces were spectacular. The turkey platter was painted with a turkey standing proudly in the snow, the scene vertically covering the entire platter. It was the perfect ornament, as the turkey is indigenous to North America. Interestingly, the Rutherford B. Hayes state dinner service has hardly ever been used by subsequent presidents and remains largely intact.
Producing the service proved so costly to its manufacturer, Haviland & Co. of France and New York, that the firm had to offer a limited number of pieces to the general public to make up for their losses. Most of those pieces were sold by Galt Jewelers of Washington, DC. They are recognizable as they bear a slightly different mark than the examples belonging to the White House.
It is not surprising that the White House would have such a spectacular dinner service. After all, Thanksgiving has always been a very important part of White House tradition. Thanksgiving was the first national holiday proclaimed by George Washington in 1789. Abraham Lincoln began the tradition of pardoning the White House turkey in 1865 (the first pardoned turkey was actually a Christmas turkey) at the request of his son, Tad.
While turkey has traditionally been the main dish on the majority of American tables, including at the White House, all families have personalized the meal according to their particular tastes. The White House is no exception. President William Howard Taft had the most interesting change: he preferred stuffed possum to turkey. Franklin Delano Roosevelt was fond of oyster stew and browned sausage. Ronald Reagan was a big fan of persimmon pudding. George W. Bush liked gazpacho at Thanksgiving. Both the Clintons and Obamas enjoyed macaroni and cheese, and the Clintons insisted on a black cherry and Coca-Cola Jell-O mold for dessert.
As we all gather around dinner tables across the nation on Thanksgiving, I will look forward to the green bean casserole, which is a favorite of my own family in Tennessee.
Happy Thanksgiving!
Image: Hand Painted Porcelain Turkey Platter from the Rutherford B. Hayes White House State Dinner Service, Haviland Limoges, Designed by Theodore Russell Davis. The Estate of James W. Smith. Sold for $17,500.