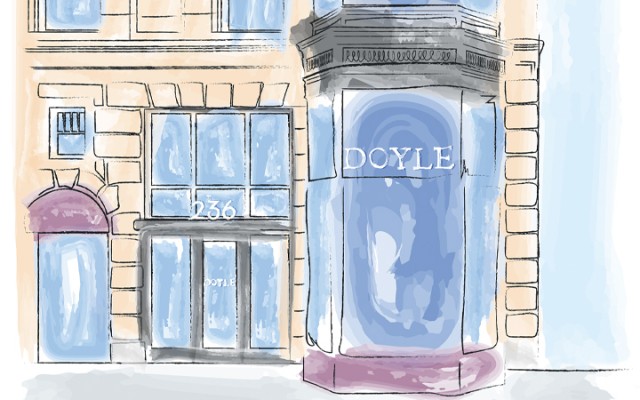 BOSTON, MA -- Doyle is pleased to announce the opening of our new gallery in Boston! This expansion reflects our commitment to providing an even greater level of service and a broader range of capabilities to collectors, families and fiduciaries throughout New England.
Doyle's New England Regional Advisors Kathryn Craig and Chris Barber look forward to welcoming you to our new pop-up gallery located at 236 Clarendon Street adjacent to lively Newbury Street with its numerous shops and galleries.
Kathryn Craig has served Doyle's clients since 2006, first as Consignment Representative and for the past ten years as New England Regional Representative. A Bostonian from birth, Chris Barber is Vice President and Director of American Furniture & Decorative Arts. He has also been a featured appraiser on Antiques Roadshow, a WGBH production televised on the PBS network.
With this recent expansion, Doyle will host rotating preview exhibitions of jewelry, art, silver and other property for upcoming auctions in New York and online, as well as for private sale. Our Specialists will also share their expertise at consignment days and connoisseurship talks on a range of collecting topics.
Preview Exhibitions
Join us for a series of preview exhibitions celebrating our opening!
• Fine Jewelry: January 10 - 11 Read More
• Silver from The Alice Kwartler Collection: January 10 - 31
• Selections from The Joan Stacke Graham Majolica Collection: January 10 - 31
• American Furniture, Decorative Arts & Paintings: February 2 - 16
Consignment Days
Discover the value of your collection! Doyle's team of appraisers will provide complimentary auction estimates for your jewelry, fine watches, art, silver, coins, rare books, Asian art and more.
• January 31: Jewelry & Watches, Coins & Stamps, Sports Memorabilia, Silver
• February 16: Paintings & Prints, Silver & Decorative Arts
And other days and categories by appointment
Prominent New England Collections at Doyle
Through the years, Doyle has been privileged to auction a number of prominent New England estates and collections. The F. Gordon Morrill Collection of Chinese and Chinese Export Porcelain, assembled by Harvard benefactors F. Gordon Morrill and his wife, Elizabeth, achieved over $12 million, including a record price of $5.8 million for a Yuan Dynasty porcelain flask. Doyle also auctioned the contents of Westport Harbor's 'Pond Meadow,' the Gilded Age manor house of Earl Perry Charlton, a founder of the Woolworth chain. Other New England collections include the estate of noted Vermont artist Ogden Pleissner and the collection of heiress Alice Appleton Hay, whose family established the Waltham Watch Company and Appleton Farms. Doyle also auctioned the Sporting Library of P.A.B. Widener, III, a member of the family who donated Widener Library to Harvard University.
Deep Roots in Boston
Doyle was founded in 1962 by Newton, Massachusetts, native William J. Doyle. His grandfather, James Henry Doyle, was a member of the Board of Aldermen and later a Commissioner during the administration of Mayor John Francis "Honey Fitz" Fitzgerald. The Doyle family subsequently owned movie theatres in Boston and the surrounding area. William Doyle began his auction career at age 9 when, accompanied by his aunt, he purchased a marquetry inlaid box at auction for 25 cents.
We Invite You to Auction!
Our New England Regional Advisors Kathryn Craig and Chris Barber are always available to discuss Doyle's full range of appraisal and auction services for a single item or an entire collection. We invite you to call 617-999-8254 or email Boston@Doyle.com
DOYLE
Auctioneers & Appraisers
236 Clarendon Street
Boston, MA 02116
617-999-8254
Boston@Doyle.com