NEW YORK, NY -- Doyle's American Furniture, Silver & Decorative Arts auction offers a selection of rare examples of American colonial silver, including a circa 1762 teapot by Daniel Christian Fueter (lot 604). This previously unrecorded teapot joins a select group of silver produced by Swiss-born silversmith Daniel Christian Fueter (1720-1785) , who worked in the latest fashions in New York. Examples of Fueter's work in the rococo style in public collections include a coffee pot in the Brooklyn Museum, a cake basket in the Museum of Fine Arts, Boston, a pair of salvers in the Metropolitan Museum of Art and a gold whistle, coral and bells in the Yale University Art Gallery.
The teapot has descended within a family that traces its roots to Albert Albertszen Terhune (c. 1623-1685).Terhune was a Huguenot ribbon weaver from Holland who settled in Gravesend in Kings County (now part of Brooklyn). Later generations settled through Long Island, New Amsterdam and New Jersey. John Albert Terhune (1709-1786) moved from Gravesend to Middlesex County, New Jersey. A family farm was established near Princeton. Notable descendants include Judge or Squire John Stafford Terhune (1793-1886). His son, William Letson Terhune (1815-1907), married Margaret Scott Little (1825-1906). Portraits of Margaret Little's parents by Micah Williams were donated by the family to the Monmouth County Historical Society. Both the portraits and the Fueter teapot share the same line of descent.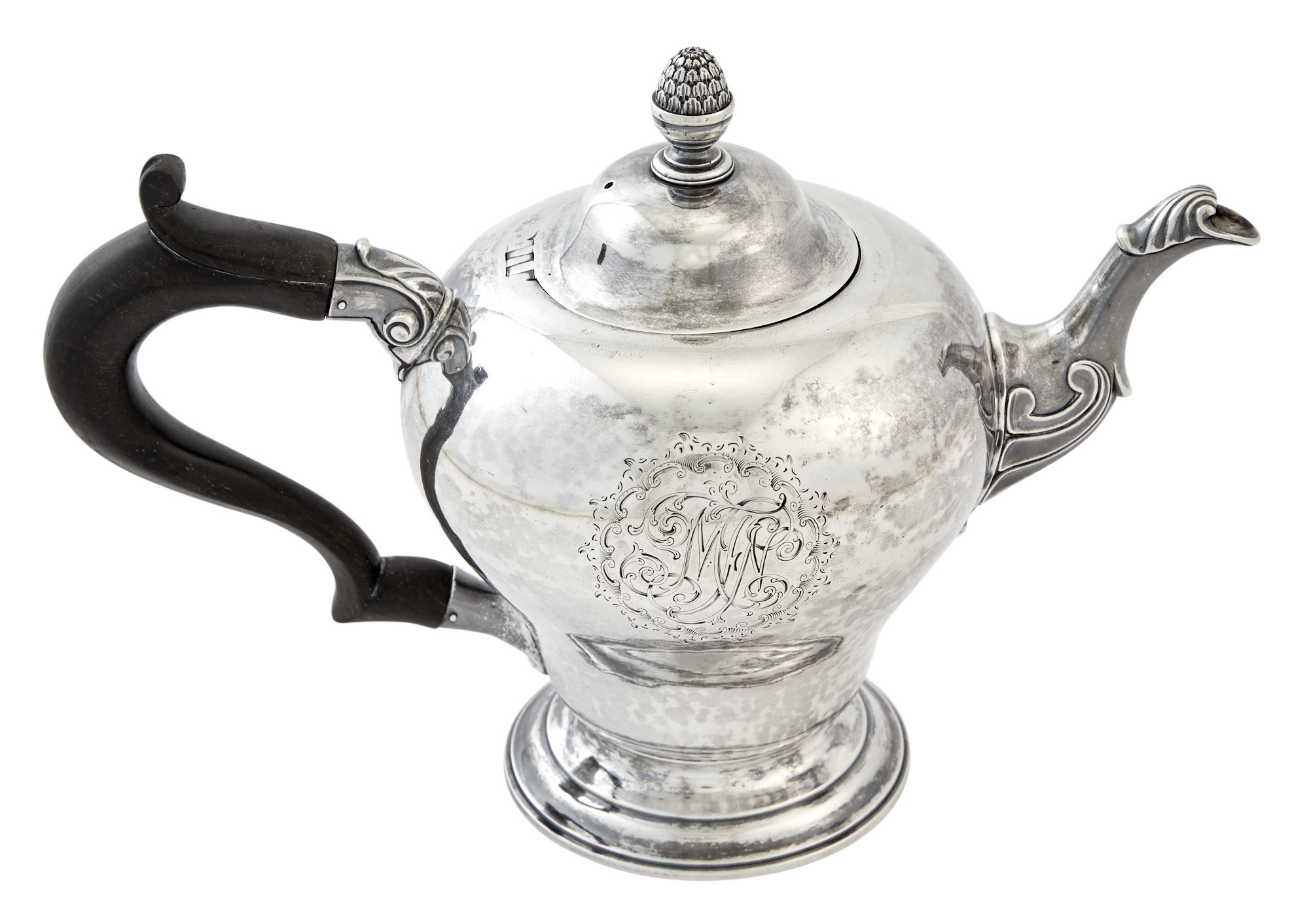 American Funiture, Silver & Decorative Arts
Auction Wednesday, November 9, 2023 at 10am
Exhibition November 4 - 6
Featured in the November 9 auction is a rare circa 1762 colonial silver teapot by Daniel Christian Fueter.