Third Annual Stage & Screen Auction on Friday, December 15, 2023 at 10am

Art, Memorabilia, Autographs & Photographs of the Theater, Hollywood, Music and Dance

Held in Collaboration with the Entertainment Community Fund

NEW YORK, NY -- Doyle is pleased to announce the annual Stage & Screen auction on Friday, December 15, 2023 at 10am. Held in collaboration with the Entertainment Community Fund, the auction will offer artwork, memorabilia, props, autographs and photographs from the vast history of the performing arts: Theater, Hollywood, Opera and Dance.
The velvet tuxedo jacket worn by Daniel Craig to the World Premiere of No Time to Die at the Royal Albert Hall in London, September 2021.
A picket sign in support of the Writers Guild of America with drawing by Family Guy creator Seth MacFarlane.
An important 1969 letter from Freddie Mercury to a bandmate the year before he formed Queen.
Costumes worn by the cast of the 2023 Ragtime Reunion Concert
Custom Chuck Taylor sneakers signed by the entire Phantom of the Opera cast on closing night, April 2023.
A collection of Edith Head costume sketches, including Grace Kelly in To Catch a Thief, Bette Davis in All About Eve, and Audrey Hepburn in Roman Holiday.
The Collection of Robert Israel, composer of the ABC World News Tonight theme, including items signed by George Gershwin, Charlie Chaplin and rare posters.
Original film posters for Star Wars, Jaws, and The Godfather
Letters and photographs signed by Verdi, Puccini, Caruso and Toscanini
Furnishings from the Collection of Bette Midler and much more!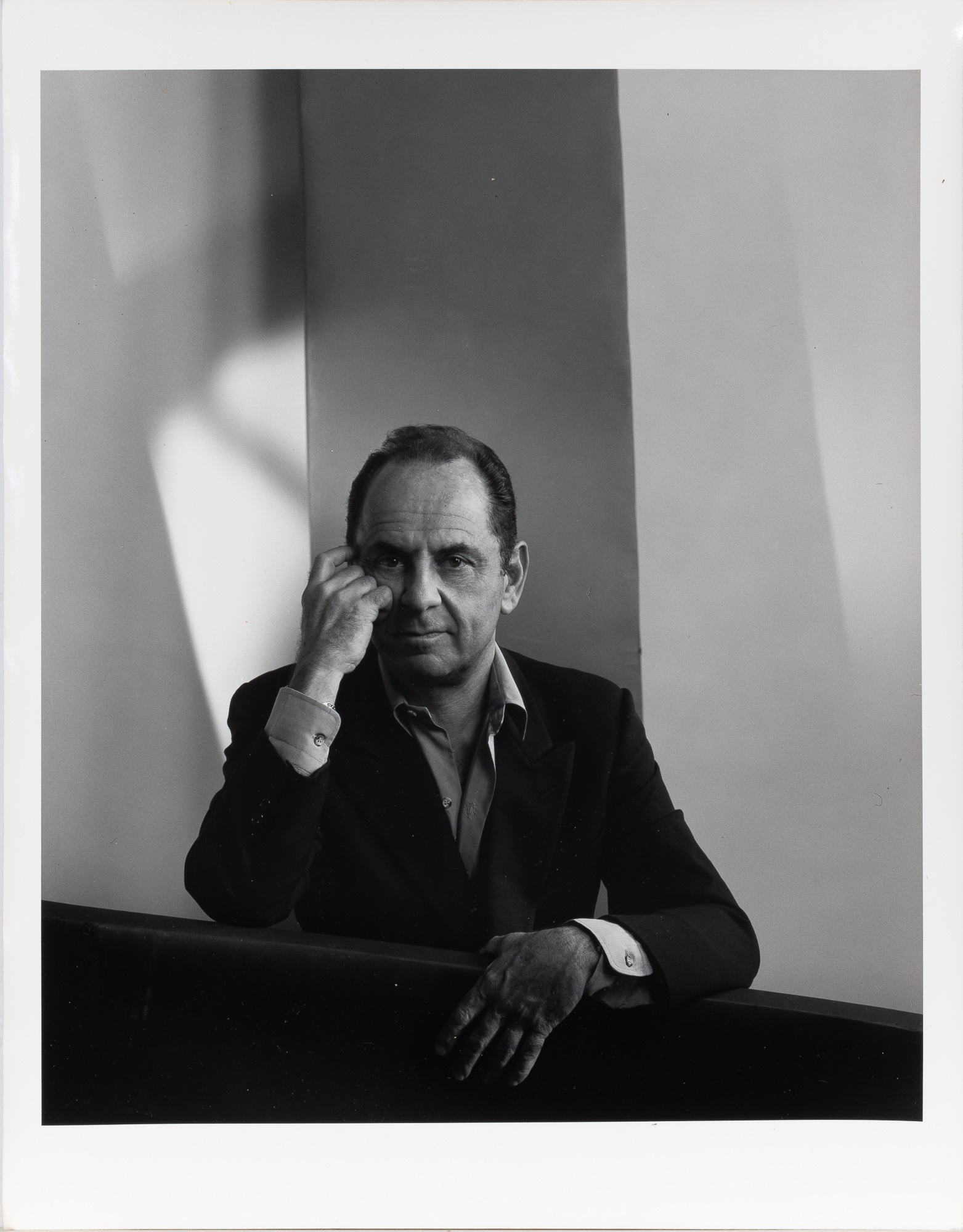 The Collection of Robert Israel, composer of the ABC World News Tonight theme
Robert Israel was a composer, music producer and founder of the Emmy Award-winning Score Productions. His company created some of the most widely recognized television and film music for network and cable news programming, primetime and daytime dramas, game shows, sports events, animated series, television movies and documentaries. His iconic news theme for ABC World News Tonight heralded historic and important news events throughout American history. Born and raised in New York City, Israel, a classically trained pianist with a passion for jazz, also had a vast knowledge of film with a particular interest in movies produced during the 1920s-1940s. His work brought him into close contact with artists he greatly admired such as Noel Coward, Maurice Chevalier, and the creative team that worked with Charlie Chaplin. His adoration of film from that golden era of cinema is reflected in his carefully curated, life-long collection of posters and related film and stage memorabilia.
Recognizing the importance of the performing arts to the fabric of New York, and the terrible toll the pandemic and recent strikes have taken on the entertainment community, Doyle is proud to donate 10% of our profit from this auction to the Entertainment Community Fund.

The Entertainment Community Fund (formerly The Actors Fund)
A special section of the auction comprising lots 5001 - 5019 will feature celebrity memorabilia presented by the Entertainment Community Fund. While a portion of proceeds from every item in the auction will benefit the Fund, 100% of the hammer price of the lots in this section goes entirely to the Entertainment Community Fund.
A highlight of this section is the stunning pink double-breasted velvet tuxedo jacket worn by Daniel Craig to the world premiere of No Time To Die at London's Royal Albert Hall on September 28, 2021.
Founded in 1882, the Entertainment Community Fund (formerly The Actors Fund) is a national 501(c)(3) charitable organization for performing arts and entertainment professionals. The Fund helps address the specific needs of those in the industry, with a unique understanding of the challenges involved in a life in the arts. Read More ►

SALE NOTICE
This sale will be presented as a live auction event conducted by an auctioneer. Place your bids conveniently using the following convenient methods:
In Person
Experience the excitement of a live auction! We invite you to bid in person with a paddle in our saleroom. For information, please email client.services@Doyle.com
Absentee Bids
Enter your absentee bids directly into the online catalogue until 8am on the morning of the sale. For information on Absentee Bids, please email bids@Doyle.com
BidLive! Online Bidding
Use your computer or mobile device to place bids in real time as the auction progresses with our online bidding platform, BidLive! Read More
Telephone Bids
Your completed Telephone Bid Form must be received by 4pm on the evening before the auction. Download the Telephone Bid Form
We are available to guide you through the entire bidding process and answer any questions you may have. Please contact us at bid.live@Doyle.com
PAYMENT
Please note that all purchases are subject to a Buyer's Premium
Payment can be made in the following ways:
· By credit card (an additional 3.5% fee will be charged)
· By wire transfer. For instructions, please email client.accounts@Doyle.com

PICKUPS & SHIPPING
For information, please contact client.accounts@doyle.com
We Invite You to Auction!
Consignments are currently being accepted for future auctions. We invite you to contact us for a free auction estimate.
For information, please contact Peter Costanzo at 212-427-4141, ext 248, or email Peter.Costanzo@Doyle.com